Fair of Furniture and Interior Decoration Vietnam in 2014 (called Vifa HOME 2014) is an annual activity by the Handicraft & Wood Industry Association of HCM City (HAWA). This fair is organized to promote the products of furniture and handicrafts manufacturer are made in Vietnam.
Why Karta JSC joins The Vifa Home 2014?
The fair was held from 06 to 09.11.2014 with over 600 booths indoors and outdoors. The fair was an opportunity for businesses in the fields of furniture, crafts, home decor, wood materials, household appliances,… promoted the brand as well as their products.
Karta Corporation is the only business in the carton packaging industry attended this fire. We join as the supplier of raw materials for the processing furniture industry because the furniture companies have big demand of carton packaging to pack exporting products.
The Karta Company's booth was designed very unique. The products made from paper that has attracted the attention of visitors such as shelves made of high quality cardboard, paper honeycomb. The furniture is made of honeycomb paper completely from recycled paper and it is very environmentally friendly.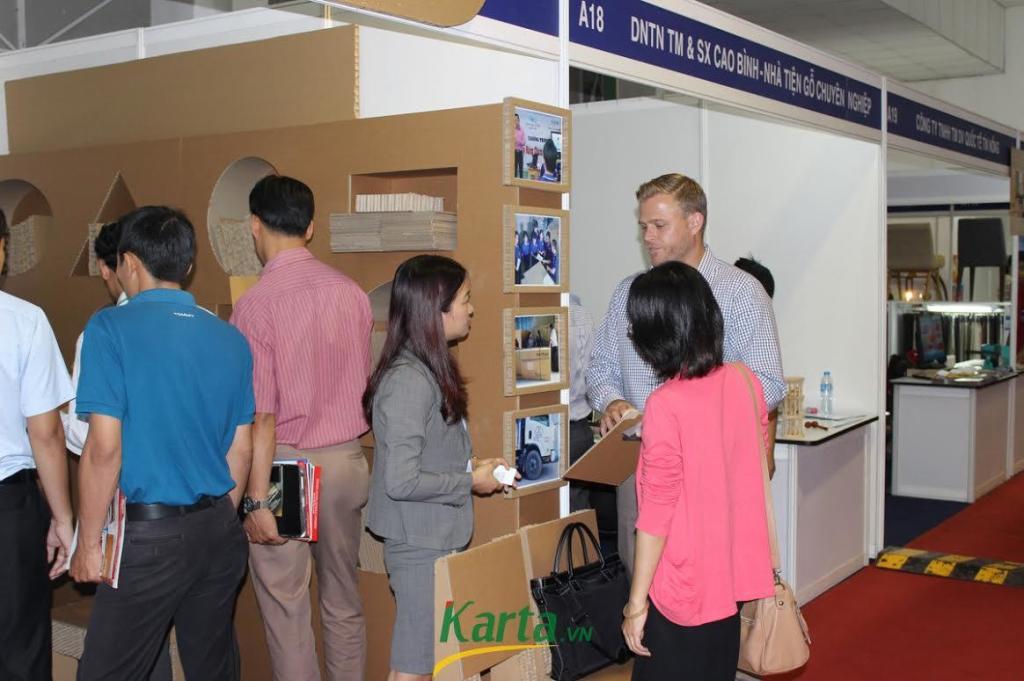 Visitors could experience the real product. They was watching and sitting on the product. The seats are made of paper that can withstand the weight of more than 100 kilograms. A lot of visitors visited our booth. They were interested in and learn more about our paper products. Customers appreciated the unique ideas, good paper with practical applicability in life.
All of the customers, who was having demand of packaging paper visited the Karta company's booth, were get some advice about how to  select paper, boxes and packaging method to save effectively.
After participating in this fair, Karta Company has been known as the prestigious packaging paper supplier. Moreover, there were a lot of the furniture-exporting Companies became our major and close partners.
Ngô Bá Thuấn
37 Nguyen Ba Huan Street, Thao Điền Ward, District 2, HCM City
Emai: info@karta.vn
Tel: 08-37446686; Fax: 08-37446618
Hotline: 093.88.66.322